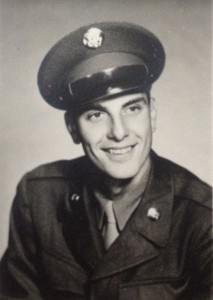 The Department of Defense POW/MIA Accounting Agency (DPAA) announced today that the remains of a U.S. serviceman, missing from the Korean War, have been identified and will be returned to his family for burial with full military honors.
Army Sgt. Wallace J. Dawson, 21, of Santa Barbara, Calif., will be buried May 1, in his hometown. In early February 1951, Dawson and elements of Company L, 3rd Battalion, 9th Infantry Regiment (IR), 2nd Infantry Division (ID), were occupying a position in the vicinity of Sang-sok, South Korea, when their unit was overwhelmed by Chinese forces. This attack caused the unit to withdraw south to a more defensible position. Dawson was reported missing Feb. 14, 1951.
In 1953, during Operation Big Switch, returning American prisoners reported that Dawson was captured by enemy forces and died in June 1951 from malnutrition. He was reported to have been buried at prisoner of war Camp 1, in Changsong. In 1954, during Operation Glory, United Nations and Communist Forces exchanged the remains of war dead. All remains recovered in Operation Glory were turned over to the Army Central Identification Unit in Kokura, Japan, for analysis. The unidentified remains were interred as unknowns at the National Memorial Cemetery of the Pacific in Hawaii, known as the "Punchbowl."
In 2014, with advances in technology, the Department of Defense (DoD) laboratory in Hawaii, re-examined the records and concluded that the possibility of identification existed.
In the identification of Dawson's remains, scientists from DPAA and the Armed Forces DNA Laboratory (AFDIL) used circumstantial evidence, chest radiography and dental comparison, which matched his records.
Today, 7,852 Americans remain unaccounted for from the Korean War. Using modern technology, identifications continue to be made from remains that were previously turned over by North Korean officials or recovered by American teams.
For additional information on the Defense Department's mission to account for Americans, who went missing while serving our country, visit the DPAA website at www.dpaa.mil or call (703) 699-1420.